The Brothers Grimsby Provides Some Laughs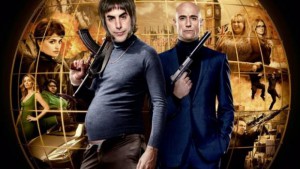 Sacha Baron Cohen's latest film features graphic jokes and an obvious storyline. The film features two brothers who are separated at an orphanage and grow up to live very different lives. Sacha Baron Cohen plays Dobby Butcher, a family man living in Grimsby, England.His counterpart, Mark Strong, plays his brother Sebastian who grew up to be an M16 Agent after he was adopted. After a disastrous reunion, Dobby and Sebastian are forced on the run by the agency that Strong works for all while trying to catch the assassin Strong was initially supposed to kill. This sequence of events is all due to the fact that Dobby blew Sebastian's attempt at protecting Rhonda George (an actress wanting to raise money to eradicate disease).
The movie does a good job of sharing the comedy and action scenes between both characters, but not all the jokes necessarily land. For example, in one scene Cohen is forced to assault an enemy base to gain information. The choreography is great until Cohen picks up a pistol and proceeds to kill the rest of the guards on site.This scene doesn't work because you would have to have years of training to kill three or four let alone the entire group of guards. Scenes like these are definitely redeemed when it comes to Sacha Baron Cohen's interactions with an elephant. This scene is way too graphic to describe in this review, but it resulted in bringing tears to my eyes and to other audience members around me.
While some jokes landed and others missed, the movie's storyline was too obvious as to who the real bad guy was and his intentions.The jokes kept me involved, but any form of seriousness was lost because of the obvious storyline.
The only storyline that was handled well was the flashbacks of their separation at the orphanage. The idea that the parents who adopted Sebastian only wanted one kid was heartbreaking due to the fact that every previous flashback showed the brothers' unbreakable bond. The scene that won me over was when Dobby, who was not adopted, led Sebastian onto a train only to sneak off and leave his brother with a chance at living a normal life. The child actors did a great job and having a younger brother myself I would have made the same choice myself.
The storyline was easy to predict, and the villain was extremely one dimensional, but Cohen has definitely mastered the concept of family.The film gets the message across that family is all that matters, no matter what.
+Emotional flashbacks
+Makes-your-stomach-hurt comedy
-Predictable plot
-One-dimensional villain
7.5/10