Hockey Ties Marlborough, Secures Playoff Spot in Tense Rivalry Matchup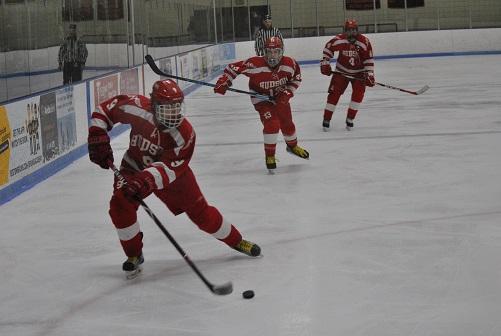 Hang on for a minute...we're trying to find some more stories you might like.
by Dakota Antelman
Both teams celebrated when time expired on Saturday's hockey matchup between the Hawks and Marlborough Panthers.
With a 1-1 tie, Hudson punched its ticket to the playoffs by clinching the second seed in the Quinn Conference. Marlborough, meanwhile, kept its own playoff hopes alive with their late comeback in an at times tense rivalry matchup between the teams.
"It's unreal [to qualify for the playoffs]," said Hudson junior and forward Jameson Fecteau. "I've been there before, and the atmosphere is just crazy. I'm just happy that the team gets to experience it for once and actually realize that it's not all talk and that it actually lives up to what we say it's like."
Hudson jumped out to an early lead when sophomore Anthony Carlman jammed a puck past Marlborough's Owen O'Brien just over eight minutes into the game.
From there, however, O'Brien ignited frustration on the Hudson bench and in the stands when officials called off what would have been a second goal for Hudson early in the second period. As senior Kyle Lally rifled a shot past him, the Marlborough goalie kicked the net slightly off the goal line.
Officials blew the play dead against Hudson's argument that O'Brien intentionally dislodged the net. Adding insult to injury, Hudson Head Coach Mike Nanartowich said he remembered the net coming loose at least eight times during his team's last meeting with O'Brien and the Panthers.
"I had already spoken to the official and said, 'Hey, in the past, he uses the post to push off, so he kicks the net off,'" Nanartowich said. "I think [the officials] were being a little too technical on that, but the call is the call. I made my point."

Moving on from the reversed goal, Hudson held its lead through the rest of the second period and the first half of the third period before Marlborough's Tino Pizzarella scored to tie the game.
Both teams locked down defensively in what became a highly physical conclusion to the game as the Panthers and Hawks both battled to preserve at least a tie. Nanartowich noted that he pulled at least one forward back into a defensive position on the majority of shifts in the game's final minutes.
Marlborough's players matched that, pushing play to the corners as time ran out.
"We didn't want to press as much and put ourselves in a bad situation," he said. "So we just had to shorten our bench and play three defenders down the stretch. We just wanted to be smart and manage the puck well."
As time expired, both teams stormed the ice with Hudson's players excitedly celebrating with goalie Ryan Gonzalez despite settling for a tie in a game they led moments earlier. After all, the team was headed back to the playoffs with many of its players now set to make their postseason debuts there.
Hudson missed the playoffs a year ago, last seeing postseason ice in a 2016 loss to Algonquin. That year's team featured a sampling of this year's leaders, including Fecteau, who saw considerable playing time in what was a promising freshman season.
Though excited to make that return, Fecteau said he and his team are focused on their remaining games as they work to ensure they finish the regular season in the best position possible.
"We want to get better seeding, so we're going to just keep treating these like they're every other game," he said. "[We will be] trying our best, trying to win these games and pull out some more points."